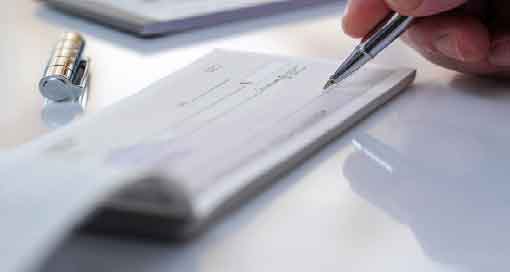 How To Void a Check
Voiding a check is a safety measure you would take in order to prevent someone from cashing or depositing money from your account. Checks hold valuable banking information on them, and it's important that they don't get into the hands of someone they're not intended for. 
Voiding a check is rather simple. To do so, you should: 

Use a black/blue pen or something that can't be erased

Write "VOID" largely across the front

Cover the check with as much writing as possible

Write down the check number of the voided check in a secure place - notes app, check registry, etc.

Make a copy of the check if necessary

If you use a check registry, keep track of the checks you void so you remember for the future.

Reasons To Void a Check
You might void a check for a number of reasons. The main reason is so someone else doesn't find your check and attempt to use it. You may also need to use a voided check so another institution can verify your banking information. 
Some other reasons you may void a check include:

Setting up a direct deposit

Setting up automatic bill paying

Setting up automatic loan repayment

Confirm banking information with another institution

Keeping a record of your transactions 

To Combat Check Fraud

Another reason you may void a check is to prevent check fraud. Although checks are not used as frequently as they used to, they are still an easy target for fraud. 
Examples of check fraud include: 

Stealing checks

Altering checks

Signing a name different from yours 

If you void the check, someone is no longer able to use it for payment or money withdrawal. You're protecting yourself and your accounts from potential malicious activity. 
How To Dispose of Voided Checks
The best way to get rid of a voided check is to shred it - this is also the safest. You can just as easily use scissors if you don't own a paper shredder. If you're using scissors, be sure to cut directly through your account number, name, signature, address, and other important information. 
If you're unable to dispose of the check on your own, most banks will do it for you. 
Do People Still Use Checks? 
As the use of digital banking has risen, the usage of checks has declined. However, they still can be very useful and lots of people still use them. The only people with access to checks are those that have a checking account. 
According to the Federal Reserve Insurance Corporation (FDIC), nearly 124 million Americans had at least one bank account. 
Consumer Payment Choice ran a survey and found that: 

61% of consumers said they have used a paper check at least once

14% of consumers said they preferred checks for bill paying

2% of consumers say they preferred checks for purchases 

Since 2000, check usage has declined by one-third. This decline means that a large majority of people don't know how to fill out checks or the proper way to void them.

Setting Up Direct Deposit Without a Voided Check
If you're in the group of people who don't have access to checks or you don't understand how to use them, there are other ways you can set up direct deposit payments. 

Ask your bank if they can print an already voided check for you

Ask your bank for pre-filled direct deposit forms based on your account numbers

Ask your employer if they will accept a deposit slip or photocopied check. 

Contact Nebraska Bank
At Nebraska Bank, we strive to provide a complete array of financial services to our community members. We reinvest into the community, and we're always happy to answer any questions you have. If you'd like to set up an account, give us a call today and talk with one of our bank representatives. 
See you soon!
May, 2023
Member FDIC