Secured vs. Unsecured Lending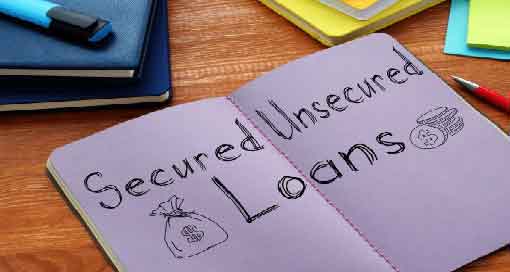 When it comes to taking out loans, there are two types to consider: secured and unsecured. There are distinct differences between the two and it's important to understand these differences before making a decision.  This will help you increase your financial literacy as well as make the best decision based on your financial health.
Basically, a secured loan requires collateral and an unsecured loan does not.  Each option has different interest rates, borrowing limits, and repayment terms.
Here are some pros and cons to each:
Secured Loan
A lender protects a secured loan by holding an asset until the loan has been repaid.  The item that is purchased by the loan can be used as collateral.  For example, if you purchase a home or car, the lender will hold the title or deed until the loan has been paid off.  Stocks, bonds, or other personal property can also be used as collateral for a secured loan.
Secured loans are one of the most common ways for someone to borrow large amounts of money. Having a car or home as collateral is reassurance to the lender that the loan will be repaid.  Secured loans are not limited to new purchases.  They can also be used for home equity loans or equity lines of credit.  For a home equity loan, the amount you can borrow will be based on a portion of the home's current value minus the amount left to repay on any debts secured by your home.
A secured loan is a "promise" that you will repay the lender in a specified amount of time and if you can't repay the lender you risk losing the asset that was used as collateral.
Advantages of Secured Loans:
Lower rates

Higher borrowing limits

Longer repayment terms

Drawbacks of Secured Loans
As with most things, there are a few drawbacks you should be aware of.
Risk of losing your assets

Possible restrictions on what you can use the loan for

Losing an asset is one of the biggest risks when taking out a secured loan. It could be a key asset to your life and may be detrimental to your lifestyle - it's important to consider your ability to pay the loan before considering this option.
Examples of Secured Loans:
Mortgage

Home equity line of credit

Auto loan

Boat loan

RV loan

Unsecured Loan

Unsecured loans are exactly what they sound like - unsecured. Credit cards, student loans, or personal loans are considered unsecured loans. Lenders take a larger risk by offering this type of loan to an individual since there is no asset to seize if a borrower defaults.
For this reason, interest rates will be higher and payment plans may be stricter. If you are denied an unsecured loan, you can still apply for a secured loan, but you will need to provide collateral.
A lender that is offering either type of loan will base their decision on your financial health. This is commonly referred to as the
five C's of credit
.
Character – credit score, employment history, and references

Capacity – income and current debt

Capital – money in savings or investment accounts

Collateral – personal assets offered as collateral

Conditions – the terms of the loan

Advantages of Unsecured Loans:
Collateral-free lending

Approval time may be quicker

Drawbacks of Unsecured Loans:
Higher interest rates

Possible added fees

Strict repayment plans

Lower limits on borrowing

Which Type is Right For You?
Ultimately, the loan type depends on your needs.  It comes down to your financial health and what you're looking to get out of a loan.
If you're looking for a large sum of money for a sizeable purchase, a secured loan may be best.  If you need something quick and you have great credit health, an unsecured loan may be of greater benefit to you.
The decision comes down to what works best for your financial needs.  It's important to look at the pros and cons of each and your ability to repay the lender.  No matter what you choose, work on boosting your credit.  Know what factors affect your score and work to increase it when you can. This will allow you access to a variety of loans when you need them.
Lets Chat

Understanding the differences between unsecured and secured loans will allow you to be prepared for the future. When it comes time to buy a home, car, or open a credit card, you'll have a better idea of what the lender will require from you.
At Nebraska Bank, we're here to help you. Come in and visit with a loan officer to find out which type of loan is right for you. It costs nothing and we would love to help you reach your goals.
Member FDIC. Equal Housing Lender.
Sources: